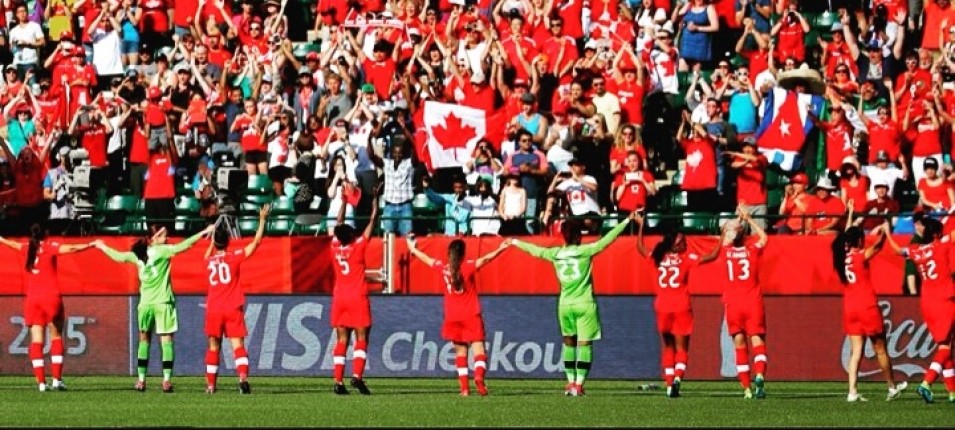 Looking back at our game vs China on saturday I cant help but get goosebumps…still! What an incredible atmosphere, something I, as well as the team will cherish for a very long time…and to think it can happen again tomorrow…even better! What I am not sure everyone who was there can really comprehend…is the effect that they had on us. Although we created some really good chances, and had great possession throughout the game, the scoreline remained equal until the dying minutes. We were confident in our play, in our attacks, and the way we were imposing ourselves on our opponents. When it came to around the 80th minute, the crowd really started to up their intensity. We could feel a difference, the energy was so crucial for us. In the end, it gave us the boost to keep running, to keep shooting, and to keep fighting, which ultimately got us the result, and the 3 points to take home! Post game, it was nice to celebrate the win with our family and friends who made the trip to Edmonton, and share our excitement with them, as well as each other. After some visits and smiles, it was time to unwind, relax, and get a good night sleep.
Waking up the day after a win is always nice, you wake up relaxed, and smiling with some amazing memories. We had a training session in the morning for those that didn't play many minutes, and recovery for the ones that did, then the rest of the afternoon off. It's nice to unwind a bit, and relax, as the games are exhausting not only physically, but also mentally. My parents had a little bbq/gathering at my house in the afternoon, so some of us were out there with our families just enjoying some time together and having some down time. We were back to the hotel for dinner, and a quick meeting to review the game vs China, then start the preparing process for our next game, New Zealand. It's a quick turn around between games, and no matter how each game goes, you have a day maximum to take what you need from the game, have your learnings, then move on quickly and start preparing for the next. We are only one sleep away now, and after our final session tonight everyone is in good spirits awaiting tomorrow's match.
I, along with the rest of the team can't wait to be surrounded by a Sea of Red again tomorrow at Commonwealth Stadium, and feel the support from not only Edmonton, but the rest of Canada!